| About this Site | What's New | Holidays| Second Harvest|
| The "GODZ" Award | Email Me | Recipes Sent in |

As always, we are looking for new recipes to try! Feel free to send in your suggestions, recipes or helpful tips. We also would like any help finding other recipe contests out there, or any other great cooking links!

Looking for low fat recipes? We are trying to find no/low fat recipes for you! Most websites give you a recipe or two, then ask that you buy a cookbook for more recipes. We are trying to gather a large assortment, that are yours to try for free! Please send in your favorite low fat recipe!
Are you a Seinfeld fan? Remember the "Soup Nazi"? Top Secret Recipes has a clone recipe of the famous "Crab Bisque"!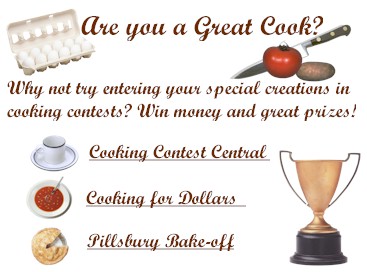 ---
This contest information was just sent to me from Reader's Digest!
Dear Friend,
Happy Holidays from Reader's Digest! To celebrate the holiday season, we've just launched our Christmas web site, where you'll find recipes, decorating tips, and gift ideas — plus an opportunity to enter your favorite recipe in our special Cookie Contest! To visit our Christmas site, just go to: http://christmas.readersdigest.com
Enter Your Recipe Today!
Do you have a delicious cookie recipe you've created? If so, you could be a winner of our first annual Christmas Cookie Contest! Enter your recipe today—the contest ends November 7, 2000.




The holidays are coming up quickly again, and there are still people who are hungry, and homeless, and are in need of help. If you would like to help, Second Harvest -Food Bank locator will help you locate a food bank near you. Any contribution would be greatly appreciated.


We are searching for your favorite low fat recipes! Send in your favorite!
Each month we feature a recipe that fits only in the category of
"Food of the GODZ!!"
Recipe Winner of the Month
Kelley, of Madison, Ohio
Pistachio Pudding Dessert
Cookie Crust
1 1/2 C. Flour
1 1/2 stick margarine
3/4 C. nuts
Mix and spread in 9x12 inch pan. Bake @ 350 degrees for 15 - 20 minutes.
Filling
1 (8 oz.) Cream cheese
1/2 C. Powdered sugar
1 (8 oz.) Cool whip
2 pkgs. Pistachio instant pudding
3 Cups milk
Beat together cream cheese with 1/2 c powdered sugar. Add 1/2 of the cool whip. Spread on top of crust. Mix pudding and milk. Beat for 1 minute. Pour on top of the cheese layer. Chill for 1/2 hour. Spread the rest of cool whip on top. Let chill.
New Recipes added this month

We are adding new recipes often! Please check back often or send in your favorite. We'd love to try it!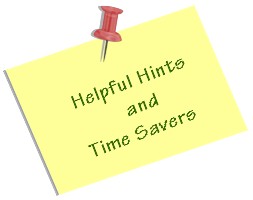 This page was last updated on 10/26/00
Sign My Guestbook
View My Guestbook Try out your guestbook here